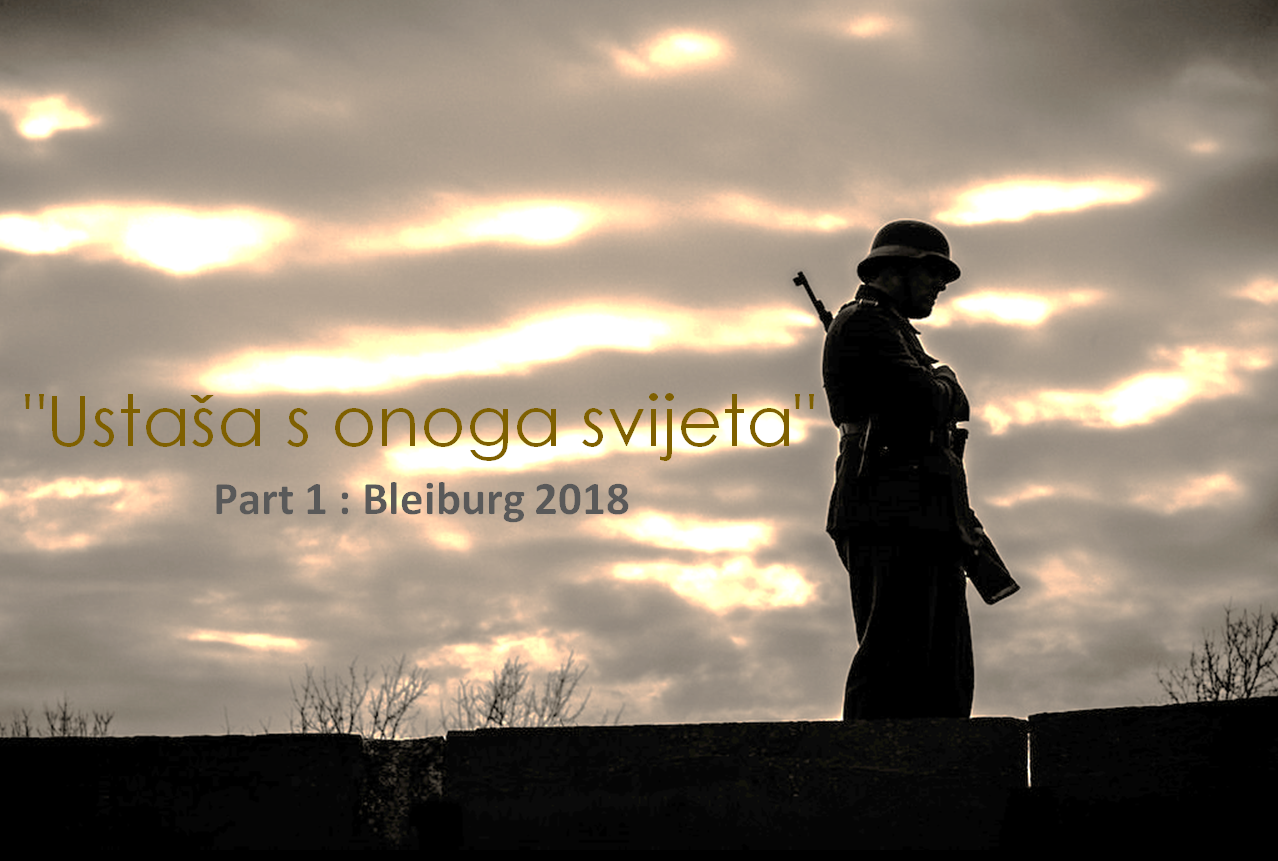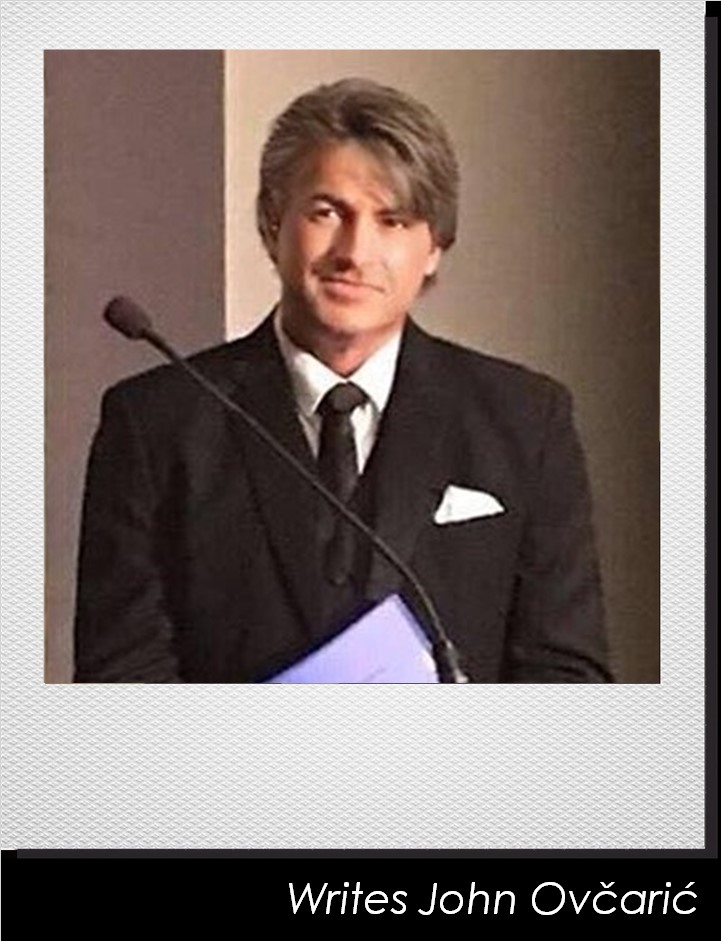 "Ustaša s onaga svijeta"
Well may we say, "Make Croatia Great" the reality is that all our wishes aspirations and endeavors will fail unless critical change occurs in the foundations of our democracy.
While away, I sent home postcards, inspired by a single comment I received during my first week here, to an extent, although I wasn't appreciative of the remark, the truth is that it held a degree of credibility. In reality, what we see in the pretty postcard shots in either publications or film productions is not indifferent to the photoshop manipulation of models in lifestyle magazines, its an image that the countries hierarchy want you to see, it is to a degree not dissimilar to what the North Korean dictatorship shows the outside world, a progressive, modern, ordered society from the outside, yet a Hollywood like film set from the outside, just don't peer behind because what props this all up, hence where the word props originates from, is far from reality.
We need to look at the modern-day Republic from a different perspective, if this was a flesh and bone person, we could concede that in its first 5, 10 possibly 15 years of existence that much as a human being, it was incapable of defining its future nor of developing a maturity which would define the course of the remainder of its life. Croatia in human terms is a 23-year-old yet fundamentally lacks the maturity of one in terms of perspective and rationale.
After a week in the country, I fell into depression, yes, I became emotional many many many times and homesick also, but not homesick for the country I was born in, where my children reside, and friends await, rather homesick for the country Id hoped to find, the 23-year-old man or woman Id never met but was now confronted with.
My postcards were mostly grim, I apologise for that, but I don't apologise for their intent, and never will.
We can bury our heads in the sand, dream of fiscal and cultural intervention, and hold firm to the fantasy of a return to Eden, the fact however is that Eden is no more and no injection of funding or entrepreneurial spirit can cut through the poison ivy that encases this land and its people.
Change can only occur once the foundation mechanisms of law, governance, economic and national reform take place, and to do this, it means a total clear out of political doctrines and the parties that perpetuate them in this country. Time is slipping away.
So the series of editorials I will be writing starts with Blieburg, our first major event.
Making our way to Blieburg was an effort in itself, it seemed that the Slovenian ministry of roads had decided that every pot hole on every road should be addressed that Saturday morning the 12th of May, and delays were met along every byway, nevertheless we had left Zagreb early enough to beat much of the traffic en-route until we arrived at the border crossing with Austria, here we were confronted by a convoy of vehicles and buses some kilometers long that had come to a complete halt. We later found out that this road block for lack of a better term had delayed others by some 3 hours.
Our convoy was in the hands of a number of capable and dedicated people including Ivica Borzić, Miroslava Juretic, and Marta Hanna.
I cannot express deeply enough the incredible support we received from both Miroslava and Ivica.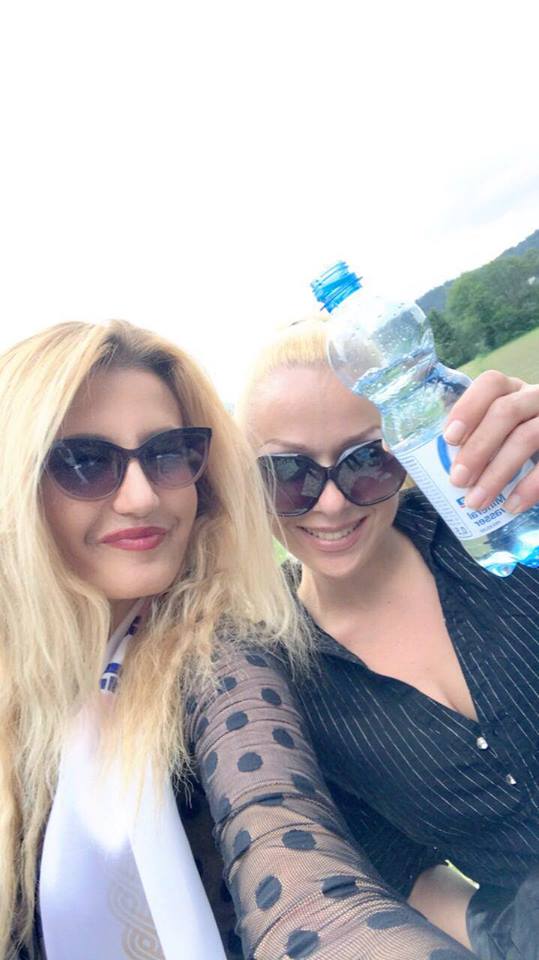 Marta and Miroslava
It was Ivica's quick thinking that saved the day after he contacted Roman Leljak via mobile phone who gave Ivica an alternative route across the outlaying alps to a small border crossing manned by two Austrian border officers dressed in what seemed to be East German surplus military uniforms who resided in a small guard house along an unpaved backwater road.
Crossing the border, we quickly made our way to the outskirts of Bleiberg where we were met by the first checkpoint manned by Austrian Police, sighting our "Protocol Passes" they politely let us through, the same occurred again at the 2nd checkpoint some kilometer closer to the commemoration site, but, upon arriving at the last checkpoint, manned by Croatian staff (We assume Parliamentary) we were advised we could drive no further even though other vehicles had been allowed through.
Once again Ivica's quick thinking saved the day when he flagged down a PBV mini-bus provided to transport invalids to the main staging area and we luckily hitched a ride with them.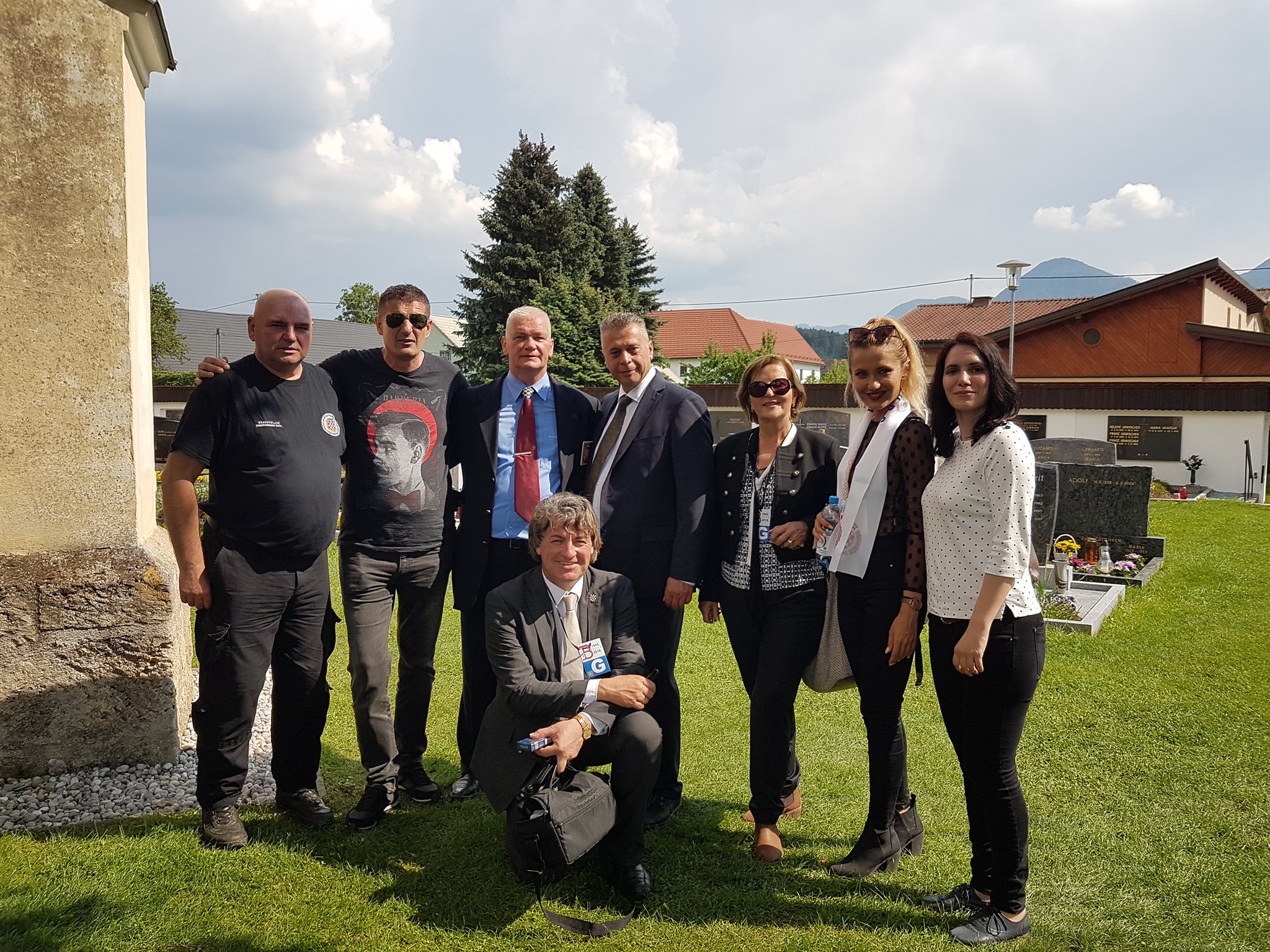 Ivica and Milan, second and third from the left respectively.
At this stage, Darko, Zlata and myself, all of us carrying official PBV "Protocol" identification passes along with Miroslava and Hanna made our way by foot along the ceremonial path to the commemoration site, but due to the rush to get there, Darko and I became separated from Zlata and upon arriving at the "Protocol Area" checkpoint entered the area without her.
We later learnt that Zlata upon arriving at the same gate (The only entry point) was denied entry. The realization of what was happening only dawned on us later.
73 years after the Bleiberg tragedy, Darko and I found ourselves sitting among the crowd of officials, and it was at this point that the reality and magnitude of what had happened there started to dawn on me. In the nearby surrounding alps, snow peaked mountain tops were still visible, the air was still apart from the occasional breeze, yet the sun was relentless in its fury, we became dehydrated within a short time, visibly burnt and bathed in perspiration.
On this field, 73 years earlier, some 500,000 people sat under the same blazing sum, I had often wondered why many of the photographs taken there showed troops who had removed their shirts and I now knew why, the conditions of this day must have been much the same over those number of days all those years earlier, it was literally unbearable for us at one stage and looking at the expanse of the plateau that constitutes the Bleiburg field, it was almost inconceivable trying to imagine how those masses dealt with the conditions, lack of water, shade and other human needs after such a long track of some 260 kilometers.
The area as best I can determine from satellite images is a total area of approximately 800 meters by 200 meters or approximately 160,000 sq. meters (32 soccer pitches) accommodating some 500,000 people, horses, vehicles etc. with no nearby natural water course and less than 2 kilometers as the crow flies from the Slovenian border.
That would equate to 3 people per square meter and when I looked back towards the masses outside of the Protocol area, numbering some 10,000 on the day, and the small area they occupied on the privately-owned land of the PBV, it wasn't hard to imagine how the field would have looked with 60 times the number sprawled across its width and breadth.
The ceremony was some 3 hours in length, and well into the second hour, Zlata was nowhere to be seen, concerned we made contact with a PBV official who collected us and attempted to deliver us to the area directly behind the Alter area, this first attempt failed when a secret service official intercepted us and consequently we returned to our seats, some 30 minutes later we were ushered away by the same PBV official through a nearby gate and into the general area, then through another gateway adjacent to the nearby tree line and into the wreath storage area.
Here we spotted Zlata in the nearby crowd and made attempts to have her let in, the first failed but some time later the PBV official, Milan, secured her entry and she joined us. At this point a 2nd piece of the jigsaw fell into place as she explained that she was denied entry even though she had an official pass.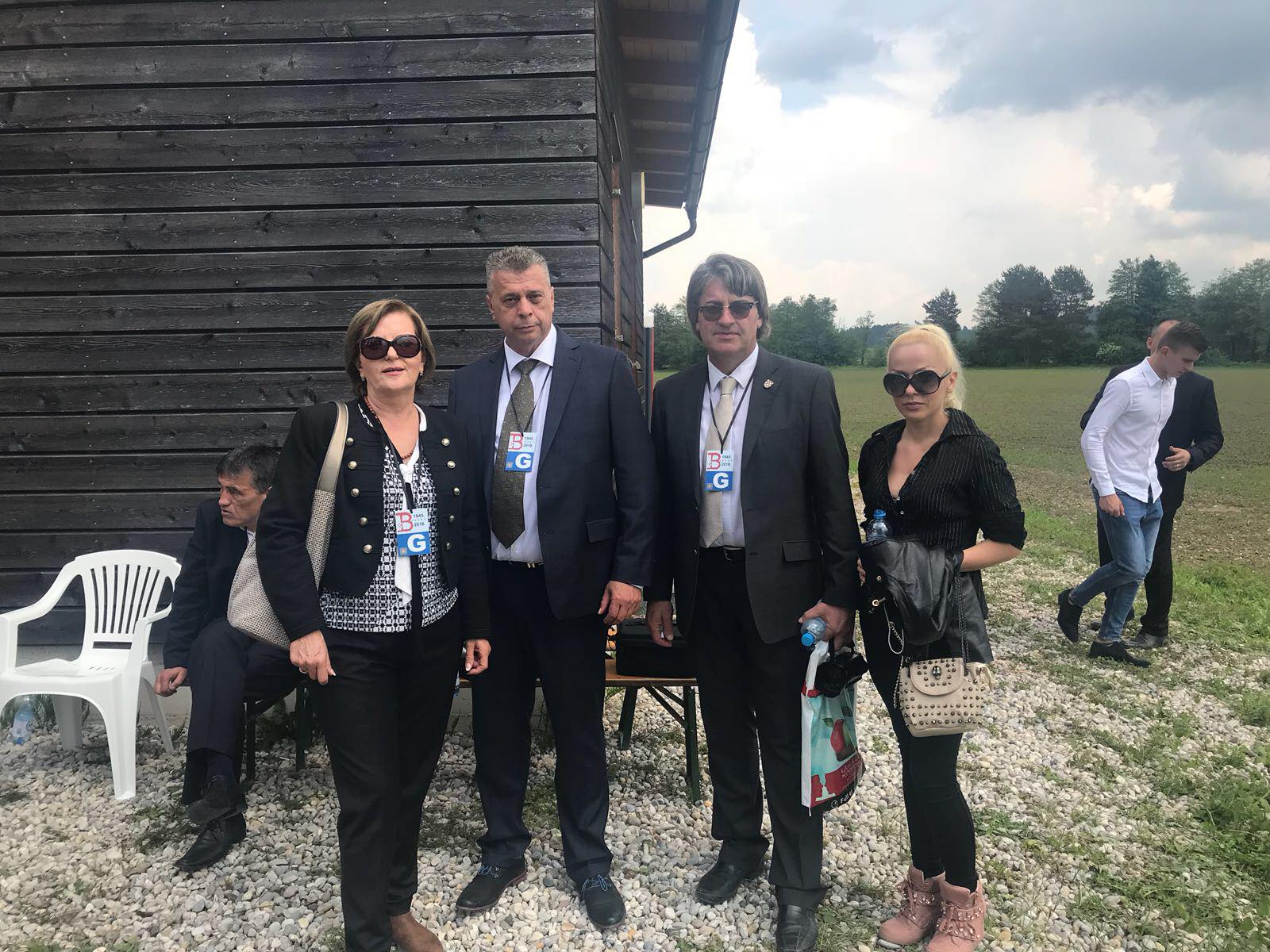 The third puzzle piece fell into place when we attempted to locate Zelimir Kuzatko whom we had made arrangements with to meet at the ceremony, all our enquiries were in vein as we were told no one knew of his whereabouts, in actual fact he sat with other PBV officials less than 20 meters from the Wreath storage area where we now were. He consequently also enquired as to our whereabouts and received the same response.
A day earlier upon arriving in Zagreb, we were advised that any attempts by attendees to display any NDH related insignia, flags or other such as HOS flags even if they were directly associated with the homeland war would result in the individual's immediate expulsion and arrest, we now know that some dozen attendees were detained by Austrian police and that 3 days after the event some 6 were still in custody.
Darko and I decided that we would abide but would also attempt to deliver something that personally meant much to myself and family, a framed photograph of my uncle Mate Dumančić in full Ustasa uniform with a passage I had prepared before leaving Australia. We knew that doing so could have stopped us dead in our tracks at the checkpoint, however, we had in plain sight carried it in along with the wreath in a small plastic carry bag that I held onto the entire path.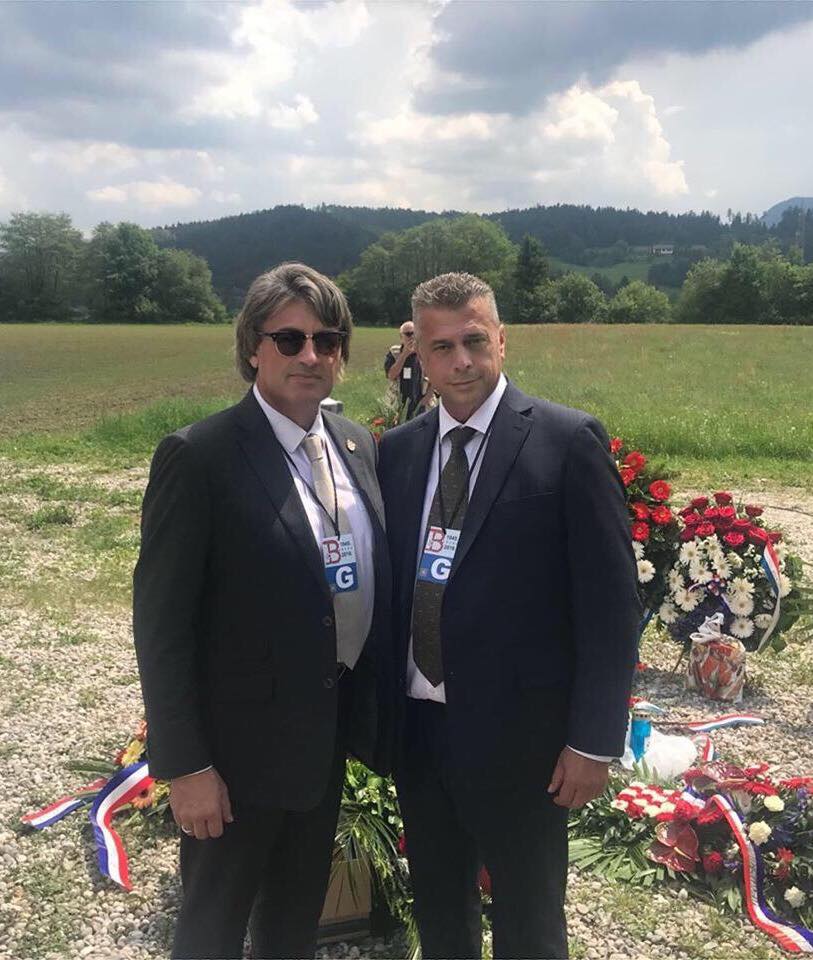 The purpose was originally a personal one, the mere fact of placing it at the monument now took on a totally different meaning, two relatively unknowns from the Diaspora were about to blow this protocol out of the water or be rushed and incarcerated in the process.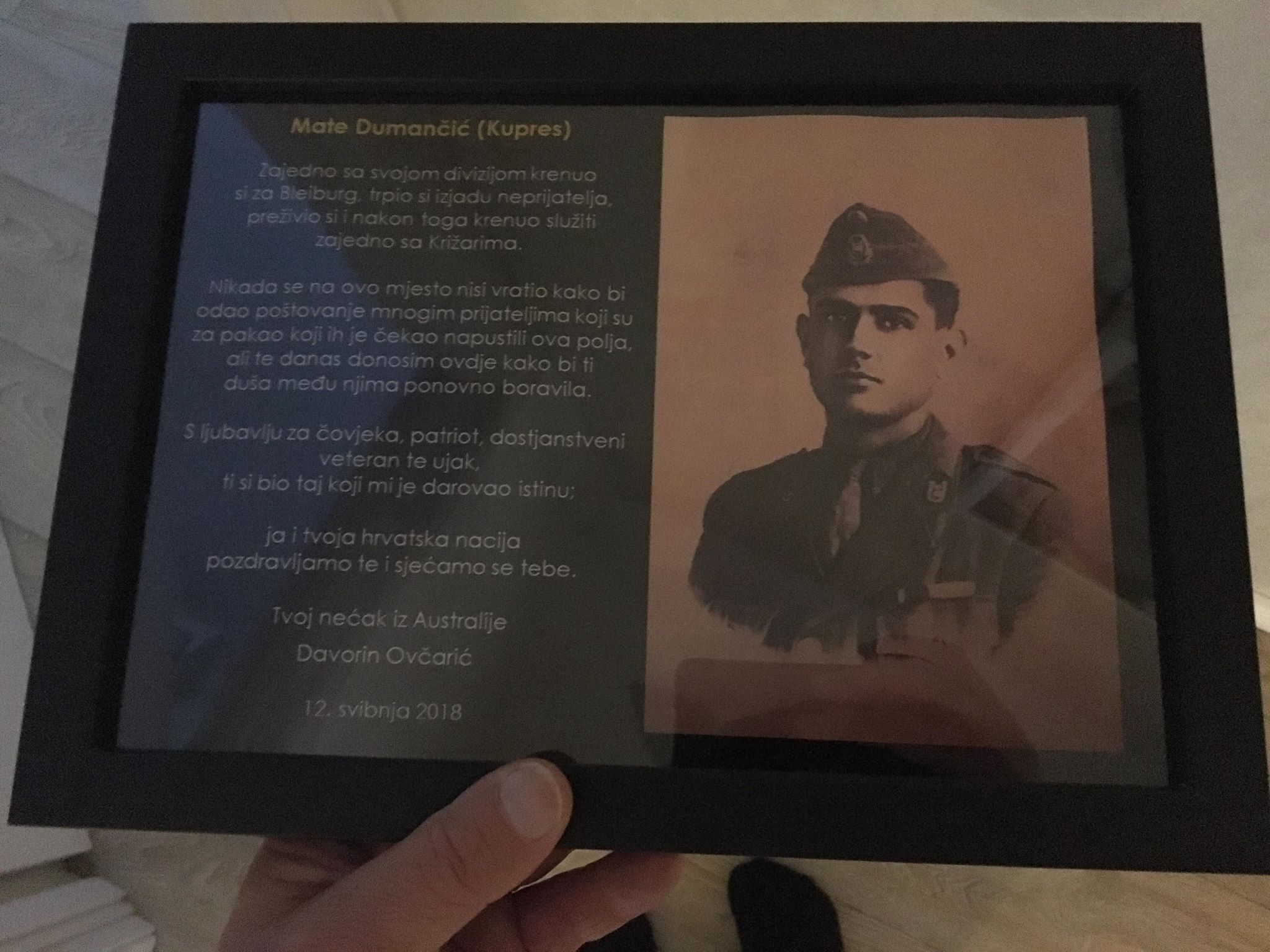 The dedication translated
Mate Dumančić (Kupres)
You turned toward Bleiberg along with your division, you suffered the treachery of the enemy, you survived and went on to serve with the Krizari thereafter.
You never came back to this place to pay respect to the many friends that left these fields for the hell that awaited them, but today I bring you here so that your spirit may dwell among them once again.
With love for the man, the patriot, the dignified veteran and uncle you were who bestowed the truth upon me, I salute you and your nation remembers you.
Your nephew from Australia
Davorin Ovcaric
Soon we were summoned to lay the wreath not long after Jandrokovic's speech, a slide line to this was that as he began to speak to the masses, the skies opened up, the crowd booed in response and apparently, and I would suggest this is correct, the sound engineer cued the applause track over the audio system. Darko and I both wished him all the best, Darko hoping that he wouldn't be struck by lighting and myself hoping in response that in such event, a Sokol wouldn't swoop from above and pluck his eyes out as a result.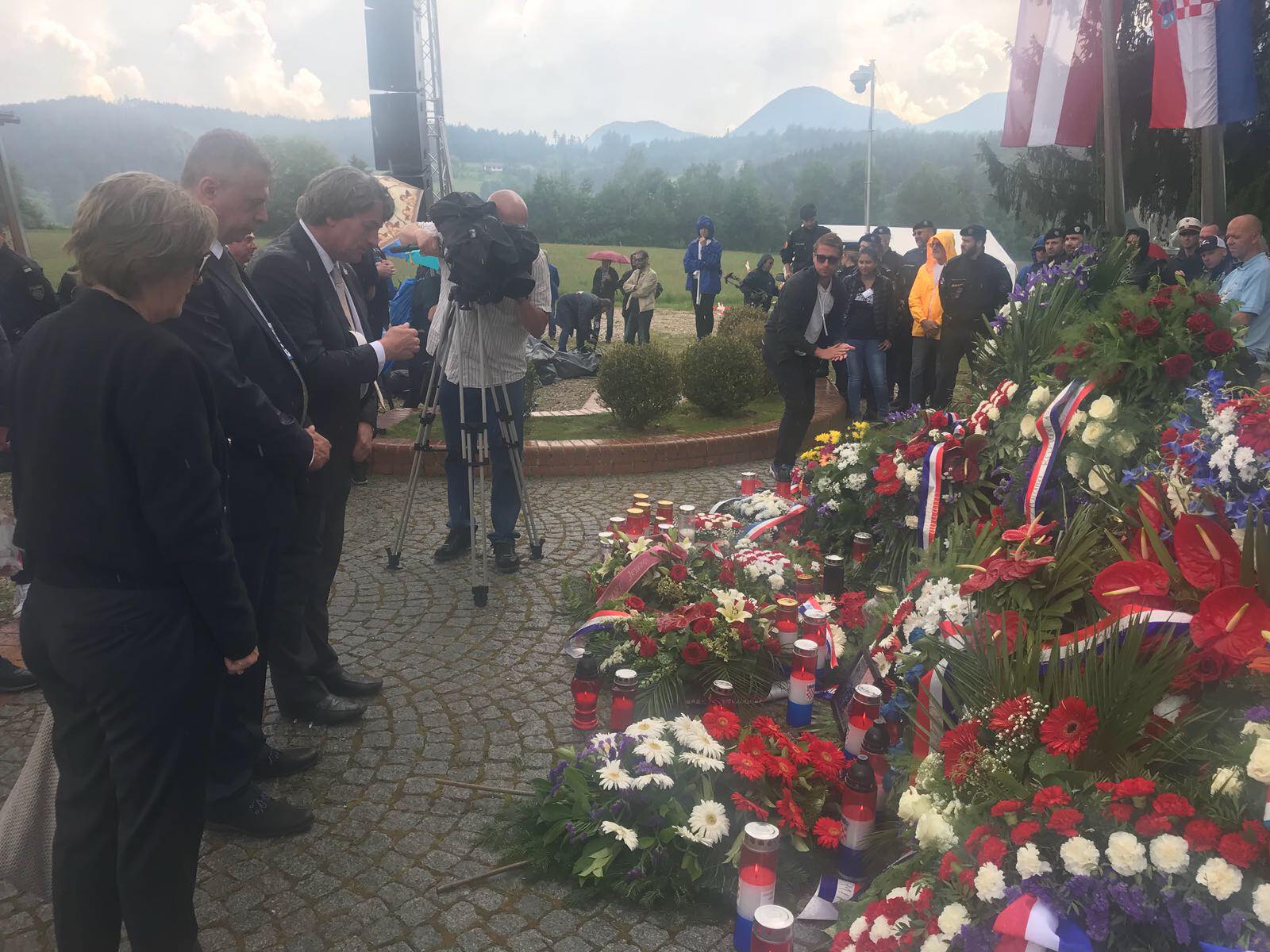 We agreed at this time that placing the framed photo at the same time of laying the wreath wouldn't be fair to the number of representatives behind us, should a situation arise as a result, therefore we completed our duties on behalf of "GHD" and the soon to be formed "Udruga Dimovinskog Rata Hrvatske Diaspore" then rejoin with the plastic bag in tow. As we approached the second time, some 10 odd Austrian Police observers, a number of PBV officials and Croatian Secret Service personnel monitored our wreath-less approach, we knew this would be a do or die moment as we stepped forward and proceeded, I carefully removed the framed photo all watching and carefully placed it before our wreath and was carried away by a wave of emotion.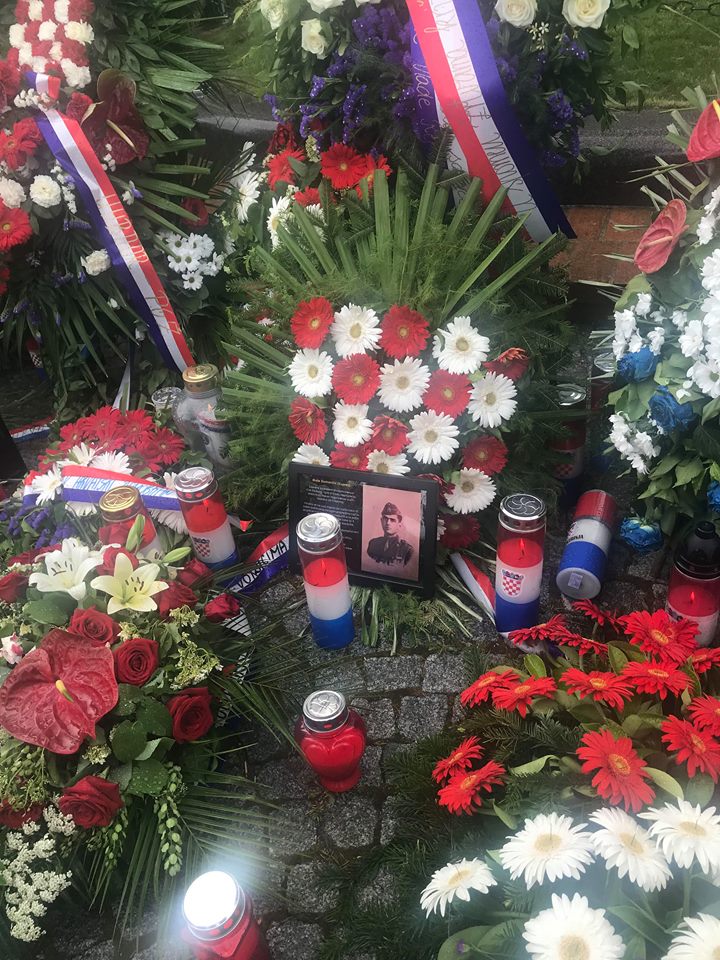 Nothing, not a word, nor gesture, came from anyone except for the sudden focus of a television camera as seen in the attached photo's on the framed Photograph, we prayed for a few moments and then withdrew, I had paid homage to a man who had touched and inspired me 42 years earlier, and by the reaction of other unofficial wreath layers who came thereafter to pay their respects, laying theirs so as not to obscure ours and the photograph, many also realized the significance of this act.
We returned some 45 minutes later and as we had placed it, it stood there undisturbed with many stopping to read the words.
What did we take away from this experience and what did we leave behind? I will mention this time and time again as I write, but walking upon that field, that most sacred of places for us in particular in the Diaspora, from this which tragedy and death hope sprang eternal in our hearts, those of our parents and eventually our own, were literally the first steps across a graveyard that I would feel as I travelled across every square inch in Croatia.
In the next installment, I will write more with regard to the jigsaw puzzle pieces I mentioned here, of their significance, and of the Seks incidents, yes there were more than one.
What we took away was the importance of the role the Diaspora has to play, of the clandestine activities that unfolded around us as we journeyed.
What did we bring to it? a message, one that we will not silently disappear into the darkness, that what they perceive us to be is incorrect but in the same instance as they see us, a threat from the past and one that silently slumbers for now.
Blieburg was as much a personal journey as it was a representation for GHD, the wreath we laid, although not to our wishes in terms of the flowered GRB, and the muddled words on it nevertheless was on behalf of all here, the framed photograph a reminder that we will not be silenced.
Part 2 : The Vladimir Šeks syndrome next