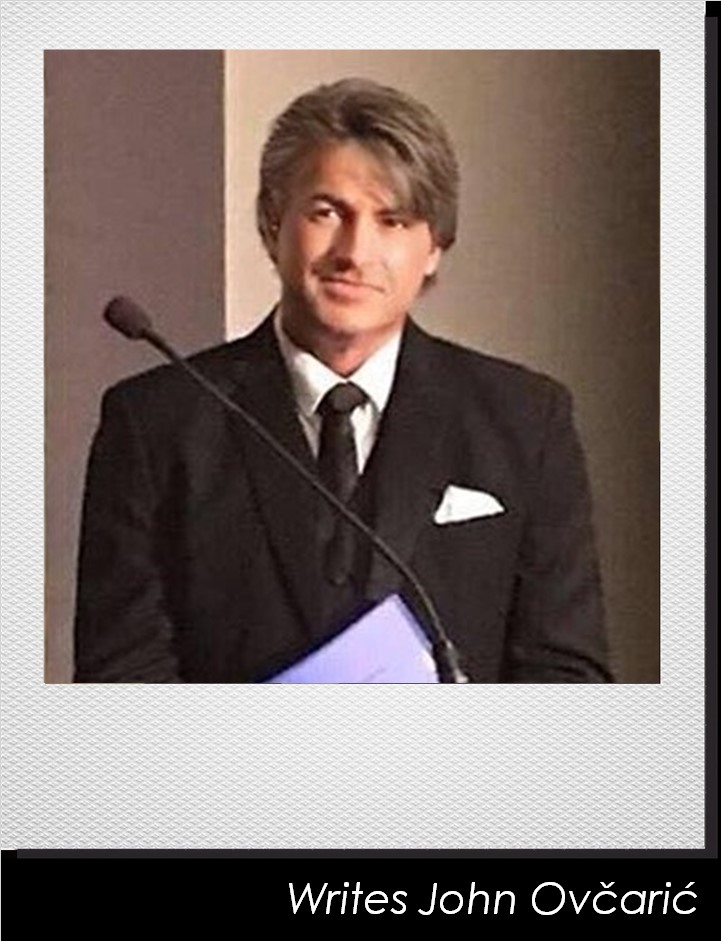 Having just read yet another news article from presumed graduates of the "72 font crayon on butcher paper University of Journalism" (which I assume is located somewhere in the eastern Balkans where quadruple degrees can be purchased as easily as ex-Albanian army surplus AK-47's) I find myself conflicted between the urge to defend every shard of the fragmentation diatribe grenade launched in it (as has been encoded into our Croatian DNA after centuries long constant head F**** – have fun translating that one) or launch a counter assault which will only paint me as a right wing radical fascist (Hmmmmmmmmm the second is tempting)
The article in question by space cadets Una Hajdari and Michael Colborne on www.foreignpolicy.com  – July 31st  2018
https://foreignpolicy.com/2018/07/31/in-croatia-nazi-sympathizers-are-welcome-to-join-the-party-thompson-ustashe-fascism/?utm_source=PostUp&utm_medium=email&utm_campaign=Editors%20Picks%207/31/2018%20-%20Notre%20Dame%20&utm_keyword=Editor%27s%20Picks%20OC
The article in question, a collaboration between two of the universities brightest space cadets it seems (One held the crayon with two hands while the other the butcher paper against the wall) is a cautious departure from the National Inquirer journalism of the past two odd weeks (No offense National Inquirer, you do your thang well, this mob don't)
Here they elude to, rather than proclaim. If you write an article that eludes to possibilities only, it becomes boring pretty quickly, proclaim it, without any concrete evidence, just here say, and you join Cristina in the running for 2018's sensationalism in journalism awards, and more probably the Monday morning line at the social security office.
OK, so how do you get across this Everest treacherous peak? Simple you go around it, use the subjects own words (In a foreign language of course) stick it through Google Translator (Until its purated) then bring to boil in a fry pan over low heated and apparently unbiased commentary.
Who here among you studied Shakespeare?
Yes that's right, you can either translate it from Ol'English to modern English, or interprate it, with Croatian, you can't do both and this is exactly the fuzzy logic Google engineers have yet to provide SkyNet with.
So, go read this brilliant attempt at translating Thompsons songs, and then interpreting the meaning by simply playing historical connect the dots between them and the 1941-1945 era remembering that they don't have the linguistic ability to filter how the words, phrases or interacting versus can come to represent multiple Croatian expressive nuances.
Hated Shakespeare first day, loved it come graduation, it's an acquired taste, one that needs to be developed, and you have to consume it to that point. A non-speaking individual, when it comes to Croatian, lacks just as a translation program, the ability to taste, try sticking your iPhone in a bowl of sugar and asking Siri how it tastes (NO don't do it, it doesn't work, I've tried, asking it whether it was developed in Area 52, now that's interesting, but we can leave that for another time)
I just won't entertain spending time addressing the individual lyrical epiphanies the two graduates chased down the rabbit hole and consequently sucked a transfixed audience down. If anyone reading this wants to challenge me on any of them, just look up from your dark place in the well of propaganda you find yourself in and look for the guy waving above and looking down, I'll try to bring you back from the dark side, or bottom in this case, with my enlightenment.
OK, so let's move along the Sherpa goat track around this peak shall we.
Once our graduate space cadets accomplished a degree of perceived plausibility linking Thompsons songs, the man himself, the supporters, the players, the Croatian public, therefore the entire country with the 1941-45 era "Once again" it was time to add the drag chain and iron ball back to our ankles by revisiting the Antifa's all-time chart busting top ten hit "Za Dom Spremni around the clock till you drop"
First let's revisit "Za Dom Spremni" its origins and use for our first time readers.
The phrase "Za Dom Spremni", this slogan can be traced back to the Croatian patriotic song "U boj, U boj" which was written by Franjo Marković and composed by Ivan Zajc in 1866, and was later incorporated by him as an aria into his opera about Nikola Šubić Zrinski.
Zrinski utilized the phrase "Za Dom, U Boj" (For the Homeland, Into Battle) as a call to arms to his troops during the Siege of Szigetvár in 1526 when he led Croatia's armed forces against invading Ottoman Empire forces, The importance of the battle was considered so great that the French clergyman and statesman Cardinal Richelieu was reported to have described it as "the battle that saved civilization." The battle is still famous in Croatia and Hungary and inspired both the Hungarian epic poem The Siege of Sziget and the Croatian opera Nikola Šubić Zrinski.
Two hundred and forty years later, Ban Josip Jelačić, during a series of battles against uprisings in the Habsburg Monarchy, used a variant of this iconic historical call to arms. He would address his forces prior to battle with the phrase "Za Dom" (For the Homeland) to which his troops would reply "Spremni umrijeti" (Ready to die). The square in Zagreb where the 500,000 strong supporters, not spectators gathered to see their team and listen to Thompson sing is known as "Trg Ban Jelačić"" or "Prince Jelačić Square" in which a statue of the famed patriot on horseback leading his troops stands to this day.
It is true that during the 1941-1945 era, this slogan was used by NDH era armed forces, as it was used prior in Croatia's history and later during the 1991-1995 homeland war for independence, however once again, it has been manipulated so as to represent some fascist phantom demon when in fact its origins date back to the defense of Europe and Christendom hundreds of years earlier. Marko Perkovic Thompson along with the vast majority of Croatian civilians and soldiers are guilty as charged of having used it also, and for Marko its incorporation into a song has consistently brought him into disrepute with Croatia's detractors over the past 2 decades.
Hopefully now understanding its heritage from our viewpoint, let's examine how another similar patriotic theme with an equally legitimate and illegitimate past, a song in fact just like Thompsons many, manages to elude controversy to a far greater degree based on its associative past.
Deutschland, Deutschland, über alles, über alles in der Welt – Germany, Germany, above all else, above all else in the world.
Thank God it's not a Croatian patriotic song titled "Kroatien, Kroatien, uber alles, uber alles in der Welt" sung by one Markus Perkovic born to political Croatian refugees in the German Diaspora, the mind boggles picturing where he would be at this very moment.
The New Yorker wrote a brilliant article on the matter of the use of the German anthem, its history, context pre the turn of last century, during the world wars, subsequent ratification post the last world war, and finally its transition during German reunification into contemporary time. It explored its validity, even though the first two versus are no longer officially used, in a comparative to other American patriotic examples in particular, and to the reader, and in particular myself, it succeeded in rehabilitating the song for what it truly and historically stood for and in my opinion still does.
https://www.newyorker.com/culture/culture-desk/deutschland-uber-alles-and-america-first-in-song
Za Dom / Spremni, whether it be a fragment that appears in U Boj U Boj which ironically has been sung by Japanese University students in the Croatian tongue for over a 100 years (See link) or as part of Thompson's "Cavoglave" in modern terms also needs to be put into historical context, yet for some, much like the East Germans of some 30 years ago who shunned "Deutschland, Deutschland, uber alles" any attempt to do so is seen as historical revisionism.
A friend in a recent conversation posed a thoughtful and valid question along the lines of "Why can the world look upon "Deutschland, Deutschland, uber alles" sympathetically yet we face ridicule for the same when it comes to our own? This also drew the discussion into the realms of Lustration, how could we ever combat the resistance towards it, and why it was denied overall?
Both are intimately entwined, rehabilitation and lustration, one cannot be without the other, and if we look at the powers atop the axis alliance pyramid of WW2 which we are connected to (Germany, Italy and Japan) in the first instance, we need to understand that each was defeated ultimately by (or capitulated too in Italy's case) the allies. In so doing all three (With the exception of east Germany) faced open trial, all three were allowed self-reconciliation, all three were allowed lustration and to varying degrees rehabilitation.
Croatia was never allowed this along with all other axis aligned nations that fell under direct Soviet (or sponsored) communist totalitarianism, for us collectively the next 45 years meant a perpetuation of guilt, the exponential fabrication of it, and the denial of lawful trial and reconciliation of actual circumstance. This was the marketing tool of our captors to justify their own existence and eventually justification for their supposed retaliatory actions during those years. An eye for an eye, sometimes 10 or more for one.
While all these countries eventually found opportunity to do so, the fact of the matter is that Croatia never did regardless of promissory lustration commitments made. Today our same enemies of the past use this fact to continue the charade internationally to justify not only their actions during WW2, and particularly after the 15th of May 1945, but also as such for their actions during the 1990-1995 war of independence. In tangent, the cascading leaderships of our Republic over the past 23 years have also benefitted. It's a case of, "We can't change the world's opinion, or we can't disclose personal ancestral collaboration in those events, so let's just play the role we've been given in this Shakespearean tragedy and play along. The show must go on"
Our own president Kolinda Gaber Kitarovic displayed this attitude with her usual elegance once again these past days in Jasenovac.
Not good enough, if Nazi Germany had triumphed, and a hand full of Jewish believers survived, I am sure they would pursue their own form of lustration, too many had died in the holocaust regardless of the outcome to allow a lie or cover up to continue, as Croatians who suffered our own holocaust, referred to as "The Path of The Cross or "Krizni Put" we also have that right.
We have the right to fair trial, reconciliation, lustration rehabilitation and global brotherhood within the post WW2 modern era. The damage today continues in what is termed the Balkans (Which is actually east of historical Croatian borders but which Croatia is deemed a part of today) we need only look at Bosnia Herzegovina, Macedonia, Albania, Kosovo and Greece and the emerging frictions there and ask "Where is that brat Servia?" look under the table of current affairs in that region and you will find him tying the shoe laces together of the ones arguing at the table. All this because of a neglect to Lustrate.
In 1981, weeks before his passing, my father, a political refugee from Croatia who had not seen his homeland in 28 years made a prediction, if we don't re-establish Croatia within 10 years, we never will. Ten years later we apparently did. At risk that history may repeat I make this one, if within 5 years we don't fulfil the aspirations of the men and women who fought for her between 1941-1995 in particular, we will never achieve a free, democratic and independent Croatia.
Our Government is obliged to protect every veteran from every era, obliged to honor the memory of our civilian loses, obliged to rectify the sins of our immediate past leaders both in modern and earlier times if and when they arise, obliged to respect the Diaspora and the trials it faced, fought and won, our Government is obliged to stand up as representative of the Republic that was fought for and the position of leadership it occupies which was paid for in blood within the corridors of Global power, finally they are obliged to follow the lead of our Vatreni and the likes of a Marko Thompson Perkovic along with countless others who put the love for their homeland and people first and foremost.
For that to happen we must lustrate, reconcile, rehabilitate, and perhaps we should use the motto
Za Hrvatsku iznad svega !
Croatia Above All !
Kroatien über alles !